Toronto Arts Foundation Roy Thomson Hall Award of Recognition Finalist Profile
Murray Foster, a Juno-nominated former member of Moxy Fruvous and Great Big Sea, is Professor of Music at Seneca College and the founder of Toronto Songwriting School, The Urban Orchestra, and Choir Nation. He wrote and directed 2015's The Cocksure Lads Movie and is writing the musical Chelsea Sunrise through Sheridan College.
Murray Foster told us more about his career, experience as a director and why this nomination is important to him. Read more below: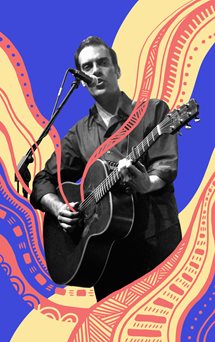 You have an established career in Canadian Music. Can you tell us how it feels to transition from a touring musician to a teaching role at Seneca College?
What's the page limit on the answer? I think one of the big challenges musicians face when transitioning into another career is the feeling that they're not qualified to do anything except sit in the back of a fifteen-passenger van and sound check a bass guitar. In reality, being in a band teaches you a bunch of soft skills: creativity, hustle, diplomacy, teamwork, and above all the ability to let the best idea in the room win. You don't realize you have these skills until you enter the 'real' world and realize that not everyone has them, and that they are immensely valuable – to you and to an employer.
The second part of the answer is that, after about twenty-two years on the road, I was ready to not be on the road anymore. Although I had a relatively comfortable gig with Great Big Sea, touring for most musicians is hard on the mental health – I'm thrilled that the Unison Benevolent Fund now exists to help musicians in need, including a free mental health hotline (1-855-9UNISON).
The third part of the answer is, I love teaching music and songwriting at both Seneca College and my own Toronto Songwriting School. It's been years since anything I did for money felt like work. I'm lucky.
You directed your first feature The Cocksure Lads which was released in 2015. Tell us about this experience. Do you have any plans to continue in film?
What's the page limit on THIS answer? Writing, directing, producing and scoring a feature film will be the hardest thing I do in this life unless I get accepted into the space program (I'm still waiting for them to call me back) and was also among the most creatively rewarding periods of my life. It taught me a lot about leading a team, not just in terms of production and fundraising but also running a film set of forty people. I have a predilection for jumping into things for which I am completely unqualified, but usually something good comes from it and this is a prime example. Sadly I won't be making another film – not because I wouldn't want to, but because there isn't enough money in the film industry to support a career (primarily because Canadians don't watch Canadian movies – but that's a whole 'nother topic…).
In 2015 you took on the position of Executive Director at Our Place Initiative. Why do you think it's important to be involved in community engagement?
Community engagement is the feeling that you care about the people in your community and are engaged with the issues that affect all of you. For me, this is the single most important part of building a good society. Our Place Initiative operated out of Etobicoke, a part of Toronto that has been chronically underfunded in terms of building civic infrastructure – we held our meetings in diners and in the employee lounge of a Lush factory because Etobicoke literally has no community centres or places for the public to gather. This lack of physical infrastructure has led to people becoming disengaged from their community, so we staged town halls and debates, went door-to-door with petitions for better transit and started the annual Butterfly Festival so that the people of Etobicoke could connect with one another and be better represented at City Hall.
Can you tell us about Toronto Songwriting School and the inspiration behind it?
Between Moxy Fruvous and Great Big Sea, I've been in bands with some truly great songwriters, and I've learned from all of them. After Great Big Sea ended in 2014 I decided to formalize my songwriting ideas and open the Toronto Songwriting School in order to fill what I saw as a gap in the availability of songwriting instruction. Now six years later we offer (online) courses at all levels, run a recording studio, and take groups of songwriters on getaways around Ontario (we used to do this internationally but….pandemic). Taking our in-person classes online has also been a revelation – we now have students from all across Canada as well as North and South America and Europe, and we're busier than ever. Perhaps the most gratifying part for me is meeting people whose kids have left home or who have just retired who feel like they've had something to say musically for thirty years but haven't had the time. To teach them how to write songs and then watch them come on songwriter getaways or record a six-song EP is pretty amazing.
What does it mean to you to be nominated for the Roy Thomson Hall Award of Recognition?
As I mentioned before, I tend to jump into projects that I'm unqualified for and then figure them out as I go, which has led me into a number of diverse and interesting musical projects. I hope this nomination inspires other creators to move forward with their own madly ambitious, fanciful, unwise, and seemingly-impossible plans.
But primarily I'd like to use this nomination to draw attention to something that has decimated the ranks of musicians over the last few years, which is the urgent and imperative need to fix the system by which digital music streaming revenue is allocated. Musicians are currently suffering, going broke, and leaving the profession while record companies rake in billions of dollars per year in streaming revenue. Although getting Spotify and the other services to pay more per stream would help musicians a bit, under the current unjust system it will primarily just pour more money into the bank accounts of record companies. We need to rethink the current system from the ground up, and that starts with pressuring politicians and the Canadian Copyright Board to make changes.